---
Mini Indiana Jones Style 4 Foot Bullwhip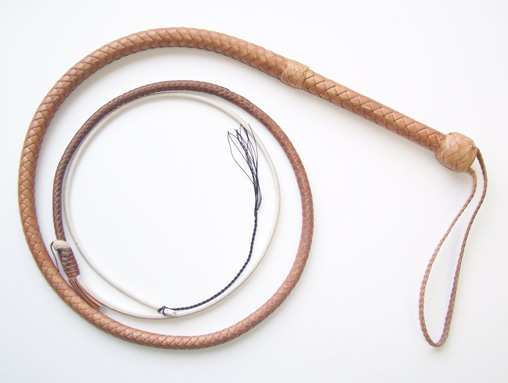 Reintroducing the Mini Indy 4 Foot Bullwhip, this whip has been very popular with enthusiasts and entertainers that must crack whips in a limited space.
We first designed and produced this whip over 15 years ago for a leading supplier in the USA. Since then it has been copied and produced elsewhere for less but as a result the quality was compromised. For the first time we are offering it directly to the public in the original uncompromising quality construction and materials that were first envisioned.
Built using the same techniques and materials as its larger counterparts, this whip is naturally weighted, cracks easily and is designed to last. It has an 8 plait kangaroo overlay ending with a 6 plait point, a plaited kangaroo belly, a 4 plait wrist loop, whitehide fall and nylon cracker. The handle is 8 inches long and the 4 foot length length of the whip is measured from the butt end of the handle to where the fall is hitched on. Handmade by Joseph Strain and available exclusively from Northern Whip Co.