Whips ~ Custom Whips
These whips have fancy ringwork, are composed of many strands and multiple colors, are very long or have distinguishing features that make them much more that a typical whip.
Because of the very fine laces needed to produce whips of this type, production of these whips will be limited to the availability of suitable skins.
To discuss your next collector grade whip, please contact us. Prices are based on the complexity of the whip.
---
10 Foot 24 Plait Red and Black Bullwhip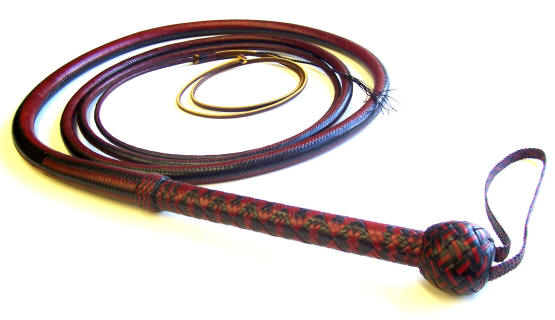 This 24 plait bullwhip was made for the 2010 World Leather Debut in Sheridan, Wyoming. It received first place in the Braided Leather category. It is 10 feet long not including the fall and wrist loop. The handle is 10 inches and it has 2 plaited kangaroo bellies. The colors are red and black, there are 5 pattern changes and a complex design plaited the full length of the handle. The wrist loop is red and black as well and an 8 plait single diamond flat braid less than 1/2 inch wide. The heel knot is a 10 bight turk's head that has been tripled. The 24 plait overlay finishes in a 10 plait point that measures only .20 inches. Cracking this whip is pure pleasure! Handmade by Joseph Strain.
---
16 Foot Black LoneStar Bullwhip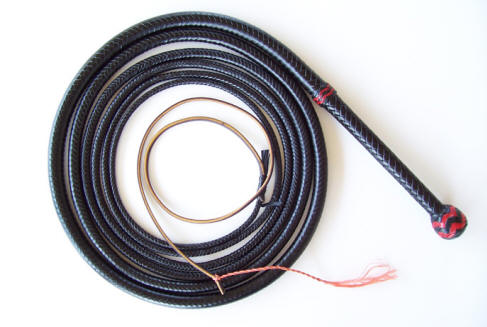 ---
11 Foot, 24 Plait, 3 Color Bullwhip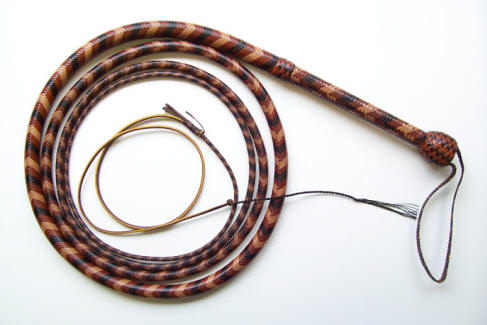 ---
8 Foot, 24 Plait, 2 Color Bullwhip

This bullwhip is built to our famous LoneStar pattern and taken to the next level. You will not find a better whip for sale today. Like the LoneStar, this bullwhip has a 10 inch handle, two plaited kangaroo bellies and a fabulous balance. There the similarities end! The overlay is 24 strands of kangaroo in a two tone with fancy ring-work on the handle. Because many fine strands are used, production may be limited by the availability of suitable skins.
These whips are handmade by Joseph Strain.